Big Data Finance Luncheon
Brussel
Richard Tischler
On 5 June, MicroStrategy hosted a Finance Luncheon on Big Data. The venue was the famous Rubinstein Room at the landmark Métropole Hotel in Brussels. The audience was made up of ten delegates from financial services (mostly banking), regulatory, and the insurance sectors. Speakers included a well-rounded mix of experts from the regulatory, financial services and business analytics sectors. The well-known and respected Head of Cabinet, European Economic and Social Committee, Rudy Aernoudt, gave the keynote speech. His presentation addressed the future of Big Data and its impact on the financial sector.
SWIFT's Head of Business Development, Marketing, Steve Gilderdale followed this by sharing SWIFT's views on financial services and Big Data. Eddy Conjaerts, MicroStrategy's Director Mobility Solutions, EMEA, concluded the presentations with The Perfect Storm, a view on how a few major technological trends such as Big Data, Analytics, Mobility and Cloud, driven by an accelerating clock-speed in the economy, are causing major threats and opportunities for incumbents and new players in the financial services sector..
The box is gone
Rudy Aernoudt began by pointing out that "Big Data is not about thinking outside the box; there is no more box. It's a totally new way of working. It's not merely about data volume, it's about being different." In his definition of Big Data, he included three Vs: Volume – that data is growing faster than machines and data sources were adding up; Velocity: the rate of acquisition and desired rate of consumption; and Variety: data is now structured and unstructured.
He then addressed how Big Data is changing the dynamic of consumer personalisation. Here he cited several current examples where we see this in action, e.g., in pet preferences of individuals, in booking travel and even in buying footwear. Linking this to the financial services sector, he sees Big Data improving the ability of banks to better understand consumers' habits and thereby seamlessly matching "right-time" offers to their needs. This extends to an improved ability to leverage well-timed, geo-locational and event-based marketing at the bank branch or delivered via a smartphone by a merchant partner.
Challenges banks are facing in making Big Data a success were also addressed. For example, these ranged from having too many silos, taking too long to analyse data; a shortage of data analytics skills; and the high cost of storing and analysing the data. He concluded by posing three questions to the delegates:
How can you avoid silos in a big organisation?  Should data be kept in-house/outsourced/Cloud? How to ensure Big Data becomes a Board issue?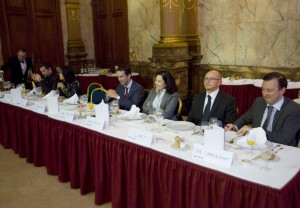 The day was meant to be interactive and Koen van Campenhout, Chairman of Febelfin's Privacy Working Group, pointed out here during the discussion that "we need to be mindful about consumers' expectations around Big Data, especially with respect to privacy. So far I haven't found much research about this. It's important to ensure we avoid irritating consumers." BNP Paribas Fortis' Contact and Campaign Director, Melissa Misseeuw added to this: "We also need to be careful what we ask our customers." Ulrich Seldeslachts, CEO of LSEC, pointed out that "there's a lot of research being done in this area and that he would be happy to share it with anyone who contacts him."
 The SWIFT view
Steve Gilderdale started his presentation by explaining how SWIFT sees Big Data being used to help financial institutions. He introduced two more Vs to the earlier Big Data definitions: Veracity (having data that is true/accurate) and Value (will it result in a solid ROI?).
"If all of the Vs are not present," he observed, "the benefits will be outweighed. When working together, they can help drive down costs and manage risk, drive strategy, address regulatory demands, and enable you to adapt faster and more frequently."
Challenges posed by Big Data were framed in a "what's stopping us?" question. One of the keys here according to Steve is in finding skilled and experienced talent. "They're gold dust. Identifying and retaining analysts that understand statistics and also get what's trying to be achieved in the business world is difficult." He warned "how not having the talent will lead to failure and damage your reputation and credibility."
Coming back to "value", Steve used SWIFT's Index as an example. Launched a few years ago, it's serving as an excellent short- term GDP forecast. It offers a true global and regional market view as it's based on traffic from their more than ten thousand customers spread over two hundred markets across the world. "We're always looking to improve, especially in terms of speed and turn-around time," noted Steve.
In summary, SWIFT sees a world where Big Data is more predictive, faster, will be supplemented in the financial services sector with more qualitative data, and mobile becomes increasingly important, even in the B2B world.
The perfect storm
From Eddy Conjaerts' perspective, four evolutions are converging and having a big impact: Big Data; Analytics; Mobility; and the Cloud, all being driven by the underlying trend of the ever accelerating clock-speed of the economy, with a real-time economy as the ultimate goal. His aptly titled presentation "The Perfect Storm – a threat or an opportunity?" explored this further.
In describing MicroStrategy, Eddy said, "We take the vast amount of digital assets that are out there, apply advanced analytics on them to make the data meaningful and to add intelligence, and then we bring them to the real world through multiple devices, but obviously more and more through smart phones and tablets. Working with big volumes of data has been one of our long-time key niches. It's no coincidence that companies such as Facebook, Yahoo, Netflix, eBay and many of the other Big Data companies are customers of MicroStrategy."
On the topic of analytics, Eddy observed "that the level of true intelligence and know-how in extracting insights from data has never been higher." Coupled with the pervasiveness of mobility, "In a few years, virtually everyone on the planet with a minimal amount of economic buying power will own a mobile device. This is going to be your channel to your customers for sharing information, for interactivity, and for commerce but most of all for creating customer loyalty and customer delight."
One of the most commonly asked questions relating to Big Data, and this was discussed repeatedly during the luncheon, is "how do we derive value out of it?"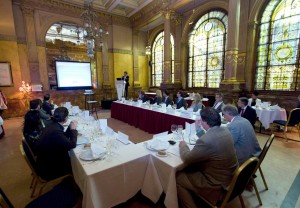 Eddy put forward several examples of this, the most relevant of which for this group of delegates, was a brief case study video of the Commonwealth Bank of Australia's roll-out of Daily IQ.
This app was created for the bank's business and commercial customers, many of whom are retailers. These merchants have multiple online and physical shops and all commercial transactions are being tracked and traced by the CBA. This vast pool of data offers tremendous opportunities to extract valuable information for the merchants: about their cash flows and cash positions, about the success / failure of their shops or products, about their customer demographics, and much more. With this unique offering CBA differentiates themselves from their competition, but in addition, if gives their commercial relationship managers the possibility to discuss other relevant offerings from CBA with their customers.
Eddy also advised the audience to carefully look into what other sectors where already doing to exploit the possibilities and value of Big Data. Not only the Internet companies are interesting but certainly the new omni-channel initiatives in retail like at Gucci and Guess could be inspiring for the financial sector as well.
Dynamic Q&A
Following Eddy's presentation, there was ample time for an interactive discussion on a number of related topics.
Regulation:
Rudy Aernoudt was asked by the moderator, Richard Tischler, to characterise the level of scrutiny the EESC is currently devoting to Big Data.
"As I noted earlier, Big Data is moving quickly. We really have no choice – the only question is how to implement. This being said, it's still new and not linked to any boundaries and this makes it very difficult to regulate."
Privacy & Protection:
He added, "Privacy is governed nationally, not regionally. This adds to the complexity. We have to ask ourselves if we need to regulate at the regional level, and if yes, how? There are many discussions and working groups addressing this, but for the moment there's no tangible proposal to regulate. Bringing experts together to discuss this could be a good topic for your next meeting."
"The new players like Google and Facebook are moving much faster than regulators. This has created a big legal vacuum around who sets up the databases and who controls the data. One of our biggest challenges is catching up."
Ulrich Seldeslachts pointed out that "furthermore, there are diverging views within the regulatory, banking and healthcare circles – in short, a general lack of coordination."
To this Rudy Aernoudt wryly observed: "if you have different opinions, you publish a communication. If you have an agreement, you publish a regulation."
Christophe Linet, Director Accounting & Administration at the P&V Group: "We need to carefully balance Big Data and privacy. We have to watch out that we don't go too far in using Big Data for segmentation. For example, maybe we have a customer looking for car or life insurance who says he doesn't drink wine, but then we see a picture of him on Facebook with a wine glass in his hand. The Big Data business model is not there for us today, but this may change in the future."
New players: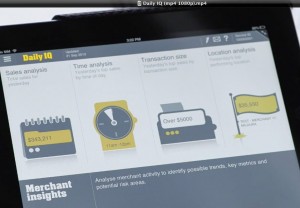 Asked if new players such as IKEA, Google and Facebook entering the financial services sector are posing a threat, and as a result, raising Big Data awareness at the Board level:
Marc Coenen, Manager at Market Intelligence and Digitization, Allianz, said, "It's not so evident to jump into a profession like insurance from one day to the next. Of course in the quest for customer contact and knowledge these new players are very well positioned to venture into new activities. But why would they want to go into insurance? Are there not easier ways to tap into customer knowledge?"
Ulrich Seldeslachts commented: "Big Data is technology, and technology is an enabler. You have to do data analysis; if not, you're out of the game. In fact, Big Data is really the new norm. What's more, mobile, in my view, is the real game-changer."
MasterCard Europe's Business Leader, Business Development Benelux, Rita Okcuoglu noted "We also need to consider where you talk about Big Data. All the related aspects of managing it vary around the world. You can't apply a 'one size fits all approach'."
Competitive advantage:
Steve Gilderdale: "If you work faster than the rest and do everything right, then you'll improve your profitability. For example, in global transaction banking, there's a mixture of cost and risk benefit to be gained from using Big Data where we can optimise corresponding banking networks and relationships to focus on those that bring the most value, thereby reducing both risk and cost for the bank."
ROI research:
Rudy Aernoudt remarked that he did not have a global view on the ROI of Big Data and was asking if there is hard ROI data available in financial services?
Ulrich Seldeslachts confirmed there is and that there are companies out there that subsist solely on this. As to the oft-asked question whether there is an ROI, he added: "For me it's not even an issue as a question."
Conclusion
There was group unanimity that Big Data has been around for a while, but that the growth seen over the last several years has been exponential. That it's here to stay and will gain in importance over time was also fully acknowledged by the group.
Interestingly, the jury is still out for a number of financial institutions and insurance companies concerning a clear value proposition and the perceived threat of non-traditional players entering their sectors. As such, Big Data is not yet front and centre at their Boards. The picture is also less than clear in terms of if and how Big Data should be regulated at the European level.
Other certainties: the technology is there and evolving faster than ever before. There continues to be a talent shortage of skilled data analysts. More non-traditional players will enter the financial services and insurance sectors, but how successful they will be is not yet known.
To borrow from Eddy Conjaerts: "We ain't seen nothing yet…"
http://www.youtube.com/watch?v=_67-gzgQr-c